With the aid of technology, Ethiopian Food and Drug Authority have launched a Food Safety Alert application.
EFDA, Developed food safety alert and notification system for rapid exchange of food safety incidents information among stakeholders. It is necessary for the stakeholders to communicate in a rapid and coordinated manner to health threats caused by food to protect the consumer.
This unique food alert and notification system is a web-based application that enables the public and organizations to report food safety incidents to ensure timely detection and response to incidents that result from unsafe food. Once the incidences are reported EFDA review and disseminate the notification of the incidences to stakeholders as well as the public using the system.
On February 23, 2023, at the opening of the Food Safety Alert Notification System launch program in Addis Ababa, The director general of the authority, Mrs. Heran Gerba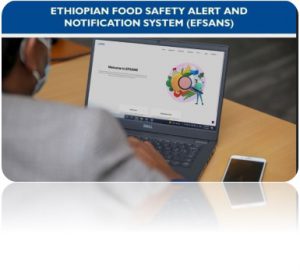 stated that, the online food safety warning and notification system would help inform relevant stakeholders of food safety issues in the food chain on system uses quick communication and prompt action to safeguard the public from food-borne illnesses.
The Director General continued by saying that this food safety alert web application will allow for a technologically enabled operational system in cooperation with numerous partner organizations and important stakeholders to further strengthen the food safety monitoring system.
In order to increase the number of reports reaching the authority office and aid in the effort to stop potential harm to consumers related to food, the Director-General lastly urged the stakeholders to spread the word about this cutting-edge online reporting method and to create similar understandings among other users.