More than 2.7 million birr worth of illegal drugs, food, and tobacco products were collected and disposed of, along with food items adulterated with foreign substances.
The Authority's Southwest Ethiopia branch office head, Bekalu Arega when he expressed the first quarter of the fiscal year 2016, Southwest Ethiopia branch office together with stakeholders have collected and removed illegal drugs, food and tobacco products that could harm the public's health, with an estimated value of more than 2.7 million birr, and food products adulterated with foreign substances.
According to Bekalu the office was conducted a market survey on butter and honey shops. In Bench Sheko Zone, Kefa Zone, Yam Zone, Jimma Zone, Jimma City, and Southwest Ethiopia People's Region in grocery stores, mills, and soft drink distribution centers that food products that could harm the public health (rotten pepper, spoiled pepper ready for roasting, spoiled butter, mixed with teff, spoiled/spoiled honey, spoiled corn) were mixed with foreign substance.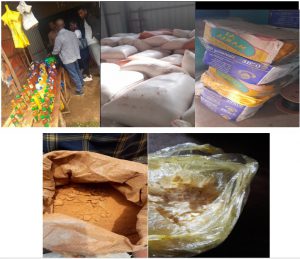 A total of 4,001 kg of various illegal food products, thirty-three (33) cartons of tobacco products and an estimated value of 191,635 Birr of illegal drug products with a total estimated value of Birr (2,762,423 Birr (two million The official said that the products worth seven hundred and sixty-two thousand four hundred and twenty-three) were arrested when they were preparing to bring them to the market, so that the public was not allowed to use them and they were removed.
In addition to this, 26 people suspected of adulterating food by foreign substance, and involved in the trade and trafficking of illegal drugs and tobacco products have been brought under the control of the law and the law is investigating their cases.
Eventually the branch office urged that illegal food and health products trade is the main public health danger so the public should aware of and realized if the consumable products alteration of known smell, taste, color and size change you can call and report through 8482 free toll of the authority or to inform heath regulatory and near police station.